Congratulations from M & N Entertainments!
You can put your trust in M & N Entertainments for your special day, we pride ourselves in being wedding disco specialists in Peterborough and throughout East Anglia, we are not an agency and will never pass you onto another disco company and we promise you we will never let you down.
Our DJ's are experienced in providing discos in venues of all shapes and sizes, from marquees and barns to hotels and castles, and we have equipment to match each setting and of course your individual requirements.
We offer a number of different wedding packages; from a simple evening reception disco service to an all day package where we will provide background music during the wedding breakfast, announce your speeches and offer our pa system for use during speeches and announcements.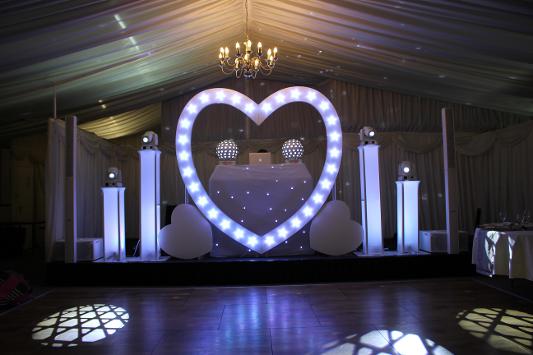 What we can offer you:
A bespoke set up tailored to your needs

Lighting to match any colour theme: including up – lighting and mood lighting around the room.

Personalised lasers

Videos or messages displayed on screens throughout your wedding

Projectors – to display hearts, stars and various other projections

Confetti cannons ( subject to venue approval)
We are happy to meet with you as little or as often as you would like to discuss your wedding requirements and will always check out the venue if we are not already familiar with it and if you have a play list in mind we will ensure we tailor the music we play to meet your tastes.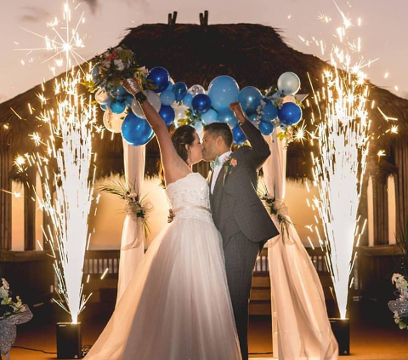 Cold Spark Sparklers
THE ONLY SPARKLERS ALLOWED TO BE USED EVERYWHERE!
Cold Spark Sparkler Fountains are a newly introduced technology that uses no fire, flame, or dangerous combustibles to create beautiful showers of sparkles. Our indoor or outdoor Cold Spark Sparkler System is a revolutionary sparkler "fireworks" system that does not emit any heat or smoke, and there is zero fire involved, thus eliminating expensive fireworks permits, or just being banned from being used indoors or outdoors all together. They are the only commercial grade sparklers that are allowed to be used EVERYWHERE. Cold spark sparklers are the perfect choice for extremely enhancing first dances, grand entrances, new product launches, video production, concerts, shows, and any other type of event. Units can be fired either one by one, all together, and in pre programmed sequences, to create waves and other beautiful effects!